11:15 AM | Trends in Starting and Growing a Business
Enjoy a discussion on trends in entrepreneurship across the country and in the Kansas City
region and find out how to get help to start or grow your business.
Maria Meyers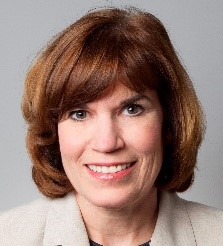 KCSourceLink
Executive Director
Maria is passionate about working collaboratively to build entrepreneurial communities. She heads the University of Missouri – Kansas City Innovation Center that supports thousands of community members every year in starting and growing businesses. Maria has developed a number of new resources for entrepreneurs in the Kansas City region including KCSourceLink, a network of 240+ resources in the region that help small businesses start and grow, Whiteboard2Boardroom, a program that connects research innovations to entrepreneurs, and Digital Sandbox KC, a proof of concept center. She leads efforts to make Kansas City America's most entrepreneurial city.
From Seattle to San Juan, her team at SourceLink has helped communities build better environments for entrepreneurs. She, along with co-author Kate Pope Hodel, has written about that experience in a new book, Beyond Collisions: How to Build your Entrepreneurial Infrastructure.
---
12:15 PM | Social Media
Anne Cull
President
ThinkViral
Anne Cull is a Los Angeles transplant with more than 18 years of commission sales experience in a variety of commercial industries. She believes people in B2B industries need to depend more on relationships and referrals than on advertising and marketing and created ThinkViral to focus solely on helping development and construction contractors, supply chain professionals, engineers and transportation authorities, city and state entities, and membership organizations generate more referral business through social media.
Located in Kansas City, Missouri, ThinkViral offers social media training, sales strategy, policies and guidelines, and an annual social media program for companies who manage their social networks in-house.
Affiliations:
South KC Chamber of Commerce Board of Directors
Women Construction Owner Executives (WCOE)
Associated Builders & Contractors Inc., Heart of America Chapter
UMKC Small Business Technology Development Center - Social Media Facilitator
---
1:15 PM | Workforce is THE Issue (panel)
Access to a qualified workforce has always been one of the major factors that impact business success.
But, with unemployment rates hovering around 3.5%, or at "full-employment", business and industry, educational institutions, government, and business support groups are all being called like never before to communicate, coordinate and collaborate with one another to address this issue.
This session is designed to bring more clarity on this topic by sharing key data points as well as some of real-life examples of how workforce challenges and opportunities are being addressed at the state, regional and local level."
Jeff Pinkerton
Mid America Regional Council (MARC)
Senior Researcher
Jeff has served as the Senior Researcher for the Mid-America Regional Council for 18 years. In that capacity, he tracks economic and demographic trends in the Kansas City area. His duties include the bi-annual Greater Kansas City Economic Forecast, providing data and analysis on the Kansas City area workforce for the Regional Workforce Intelligence Network and managing MARC's economy website, KCeconomy.com.
In analyzing the Kansas City area workforce, Jeff has studied regional migration patterns, labor market information, workforce supply gaps and the region's industrial strengths and weaknesses.
Prior to coming to MARC, Jeff was the Chief Economist at the Greater Kansas City Chamber of Commerce, and a Researcher for the Downtown Council of Kansas City, Missouri. Jeff has a B.A. degree in economics and a master's in urban economics from the University of Missouri - Kansas City.
Jeff and his wife Andrea have two children and live in Lee's Summit.
Robert Russell
MU Extension
Director of Labor Education and Workforce Development
A native of Rolla, Rob earned a Bachelor of Arts (BA) in Geography from the University of Missouri-Columbia; a Master of Science (MS) in Geography from the University of Alabama; and a PhD in Geography from the University of Iowa in 2009. A broadly trained human geographer, his dissertation research focused on the political and cultural geographies of alternative country music.
Prior to joining MU Extension, Rob worked for unions in Iowa and Wisconsin where he had the opportunity to organize and represent public employees at all levels of government. He also was a research assistant at the University of Iowa Labor Center and taught courses on Political Geography at the University of Iowa.
Rob has a variety of teaching and research interests, including workplace representation; collective bargaining; leadership development; labor communications; globalization and labor; and labor geographies. He is a member of the United Association for Labor Education (UALE) and AFT-Missouri and serves as a board member for the Labor and Employment Relations Association – Gateway Chapter.
Mark Randall
City of Independence
Assistant City Manager
Mark Randall is an Assistant City Manager for the City of Independence. His responsibilities include promoting economic development and overseeing the operations of Independence Power & Light, Water Pollution Control, and the Water Services Department.
He has been with the City for about a year and a half, but has over 35 years in local government administration. Before joining the Independence team, he served for 28 years as the City Administrator in Pleasant Hill, Missouri. Before that, he served as the Administrative Analyst for the City of Lee's Summit, and the Assistant to the County Administrator & County Purchasing Agent for Clay County, Missouri.
Mark has an undergraduate degree from Rockhurst University and a Master of Public Administration degree from UMKC.
He is a 2014 recipient of the Mid America Regional Council's Regional Leadership Award, and 2004 recipient of the Jay T. Bell Professional Management Award from the Missouri City/County Management Association.
---
2:15 PM | Protect Your Investments
Security is an ever increasing issue these days. Learn from the expert that can help you keep your physical and financial property safe
Todd Hurt
Manager, Vulnerable Citizens Services
Missouri Secretary of State, Securities Division
Todd Hurt is the Manager of the Vulnerable Citizens Services Unit in the Securities Division of Secretary of State John R. Ashcroft's Office, (press release pasted below). Prior to taking this position in February of this year he was the Chief of Police for the Missouri Capitol Police Department, a position he held for 13 years. While serving as chief he received recognition from the Center's for Independent Living, the Governor's Council on Disability and the Missouri House of Representatives among others. Prior to his appointment as Chief he was a Missouri State Water Patrol Officer, serving Lake of the Ozarks and the St. Louis area. Todd served in Operation Desert Shield and Desert Storm in the 101st Airborne Infantry Division, receiving combat citations as a field paramedic. He is a 1989 Graduate of the University of Central Missouri.
Officer Billy Pope
Independence Police Department
---
3:15 pm | Know the New Rules
2017 Tax Code & E-Verify-2 things every business needs to be aware of
Tax Cuts and Jobs Act – Put a √ in the "WIN" column for Small Business Owners!!
Learn about how the 2018 tax law changes will impact small business owners, including the new Sec 199A
Small Business Deduction, Depreciation Rule Changes, Tax Rate Changes and more
Denise Fears, CPA
Fears Case-Harmon & Assoc LLC
E-Verify: Learn the Changes made to the revised Form I-9, version 07/17/17N, proper completion of the Form I-9,
avoiding errors and correcting mistakes, storage and retention and the benefits of using it.
Jennifer Nelson
U.S. Citizenship and Immigration Services
Department of Homeland Security
Jennifer Nelson is a Management and Program Analyst of the Outreach Branch with U.S. Citizenship and
Immigration Services (USCIS) Verification Division at the Nebraska Verification Operations Center.
At the Department of Homeland Security, Ms. Nelson educates employers and the public of all programs supported by the Verification Division including Form I-9, E-Verify, Self-Check, SAVE, and myE-Verify. She has provided hundreds of presentations for employers from coast to coast including events such as the American Payroll Association's Annual Congress, ICE IMAGE Employer Forums, SHRM annual conferences, League of Municipalities, and the International Public Management Association for Human Resources (IPMA-HR).
Prior to joining the Verification Division, Ms. Nelson held several positions within the U.S. Department of Agriculture. Along with customer service and project leadership, Jennifer also managed a $25 million guaranteed business loan portfolio and resolved a variety of complex guaranteed loan and federal grant issues.
---
4:15 pm | Ten Tech Tips That Will Transform Your Business
You use technology in your business but are you using it correctly?
Learn what pieces of technology that you shouldn't brace in your business that will make your
business more productive and profitable.
Burton Kelso
The Technology Expert
Burton Kelso is Chief Technology Expert at Integral. For the past 25 years they've helped homes and businesses with on-site and remote computer and tech support in the Kansas City metro area and all over the county. He writes a weekly blog, creates a Facebook Live segment called 'Tech Tips for Non Tech People' and regularly appears as a guest tech expert on ABC, NBC, FOX, and CBS on shows such as Better Kansas City, Kansas City Live and the FOX 4 morning show, offering viewers easy tips on technology, Internet lifestyle, and gadgets.